ASTC 2018 Transportation Info for Conference Attendees
Getting to Hartford is easy... halfway between New York City and Boston, MA...
Access is convenient by plane, trains or automobiles: 
Bradley International Airport (BDL) is located 12 miles north of downtown Hartford with transportation direct via taxi, UBER, or the Bradley Flyer.
Bradley International Airport serves the top airline carriers in the U.S., with over 30 direct non-stop flights per day plus International flights to Dublin, Ireland via Aer Lingus.
The Bradley Flyer provides quick and easy travel between the airport and downtown Hartford. The trip only takes about 30 minutes and operates approximately hourly between downtown Hartford and all the terminals at the airport, seven days a week, for a one-way fare of $1.75. There's even a designated stop at the Connecticut Convention Center to help get you to your meeting quickly.
Download the Bradley Flyer Route Map
Amtrak train service and non-stop, interstate bus lines to every major Northeast city operate in and out of Union Station in downtown Hartford. Union Station serves as the region's central rail and bus station for service points throughout the country, including New York, Boston, and Washington, DC. Learn More
Driving in? Hartford is within a two-and-a-half hour drive of more than 23 million people and is ideally located at the gateway to New England, where Interstates 84 and 91 intersect. Just 30 minutes north and south of Hartford, the Interstate system connects you to the Massachusetts Turnpike (Interstate 90) and the New York Thruway (Interstate 95). Get directions
Once you've arrived in Hartford, the dash Shuttle is a convenient downtown circulator. The dash Shuttle operates Monday - Friday 7am -  7pm. Special Extended hours for ASTC 2018 weekend: 
Friday, Sept. 28:  7am - 10pm 
Saturday, Sept. 29: 6:30am -  12 midnight
Sunday, Sept. 30: 6:30am - 8:30pm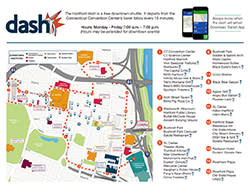 Click for full-size map of the dash shuttle routes 
Parking: Attached to the Connecticut Convention Center is a covered eight-floor parking garage with 2,600 parking spaces, connected Marriott Hotel shares this garage for overnight guests. In addition, there are 125 outdoor spaces for oversized vehicles in the surface lot (ceiling height for Level 1 is 8'2" and all other levels are 7'6"). The parking garage also has an area dedicated to a charging station where customers with electric-powered vehicles can plug in and charge for free. The garage is open 24/7. Additional parking is also available at the Connecticut Science Center garage (460 spaces), the Front Street South garage (232 spaces) and the Front Street North garage (651 spaces).
Parking Rates
$3.00 first hour
$2.00 each additional hour
$19.00 Daily Maximum
Marriott Hartford Downtown Overnight guests:
$23.00 Valet
$19.00 Self-Park
 The Connecticut Convention Center's parking partner is LAZ Parking. The LAZ Parking office is located on Level 1 of the garage and is open 24 hours a day. To contact the LAZ Parking Office, call (860) 728-2598.
Here are more tools for your travel planning: