August 5, 2020 – Stamford, CT – The Lloyd hotel opened its doors today on the site of the former Hotel Zero Degrees Stamford at 909 Washington Boulevard in downtown Stamford. The new 94-room luxury boutique hotel was developed and is operated by RMS Companies, an award-winning real estate development company renown for pioneering boutique properties.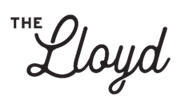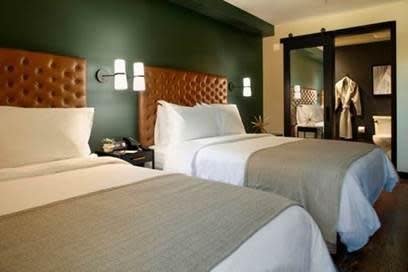 The building has been completely renovated and transformed into an intimate hotel with a warm modern design. The newly created lobby lounge operates as a café by day serving a curated breakfast and locally roasted coffee, and as a bar by night offering seasonal wines and craft cocktails. The first floor also includes a large 24-hour fitness center featuring an abundance of natural light, core and cardio equipment, a Peloton bike and The Mirror for on-demand yoga and fitness training. "It has been a pleasure to work with the RMS team to breathe life into The Lloyd hotel," stated Bruce Beinfield, President of Beinfield Architecture.  "Our design team has been focused on endowing the space with comfortable elegance, and the lobby design invites the guests to hang out, relax, get work done, or just have fun."
 
Each step of the guests' journey has been mindfully fashioned from the arrival experience, to the artwork, state of the art wellness offerings and modern West Elm guest room furniture.  Luxurious amenities have been incorporated to address the nuances of the corporate and savvy leisure traveler including large flatscreen TV's, state-of-the-art fitness training equipment and healthy food and beverage offerings. Amenities also include; complimentary high-speed WiFi, a 24-hour marketplace, luxurious Malin & Goetz toiletries, spa robes, walk-in showers with frameless glass doors, valet parking, accommodations for canine travelers and Hilton Honors rewards. 
 
Hilton Honors members will benefit from guaranteed discounts, digital check and keys, late check out, free transfer of points and the Hilton Honors app which allows guests to choose their room, unlock the door, and control TV's and thermostats in guest rooms. Guests will be rest assured at The Lloyd with Hilton's CleanStay program which includes comprehensive health and safety procedures to ensure guests' peace of mind.
 
Other standard services include local shuttle service, nightly turn-down service, complimentary and freshly brewed coffee or tea delivered to your door in the morning. The ideal downtown location is a major asset to this property which is in walking distance from the Metro North and Amtrak train station and over 80 downtown restaurants and bars. More than a dozen unique meeting and event venues are less than one mile away and the hotel sits across from a 12-acre park along the Mill River with running and walking trails, outdoor fitness classes and annual food festivals. The Lloyd offers a downtown city-retreat with an abundance to-do and see for busy business travelers, family-friendly staycations and weekend warrior travelers.
 
"Considering this unprecedented time in our country, we are pleased to offer a new product that offers guests a keen attention to detail, service, safety and comfort to address the changing needs and desires in hospitality today," said CEO and developer, Randy Salvatore. "The Lloyd is the perfect destination for travelers looking for an accessible staycation, a weekend getaway or a business hotel between Washington, D.C. and Boston, and we are confident that our independent boutique property with all of the Hilton benefits, will be the hotel of choice in the Stamford market."  For more information or to book a reservation guests may go to www.thelloydstamford.com 
 
# # #
 
The Lloyd is a modern designed 94-room boutique hotel created for today's discerning business and leisure travelers looking for convenience, accessibility and a more personalized hotel experience.  Guest rooms are uniquely outfitted with mid-century modern West Elm furniture and the hotel is ideally located in the downtown of a bustling city center along the Long Island coastline in Fairfield County, Connecticut. Each guest room has been mindfully curated to create a restful experience with a natural palette, ambient lighting and locally sourced artwork. Common areas provide space for a warm arrival, with a separate library, and additional lounge area that includes a café by day and intimate bar by night.  A high-tech fitness center offers core and cardio fitness training equipment, a Peloton bike, and The Mirror for on demand yoga and fitness training.  Luxuries include spa like bathrooms, healthy curated food options, turn-down, garment pressing and valet services, digital check in and check out, mobile key access, smart TV's and thermostats, and accommodations for canine travelers.